5-Day Dog Trip to Edinburgh and the Scottish Highlands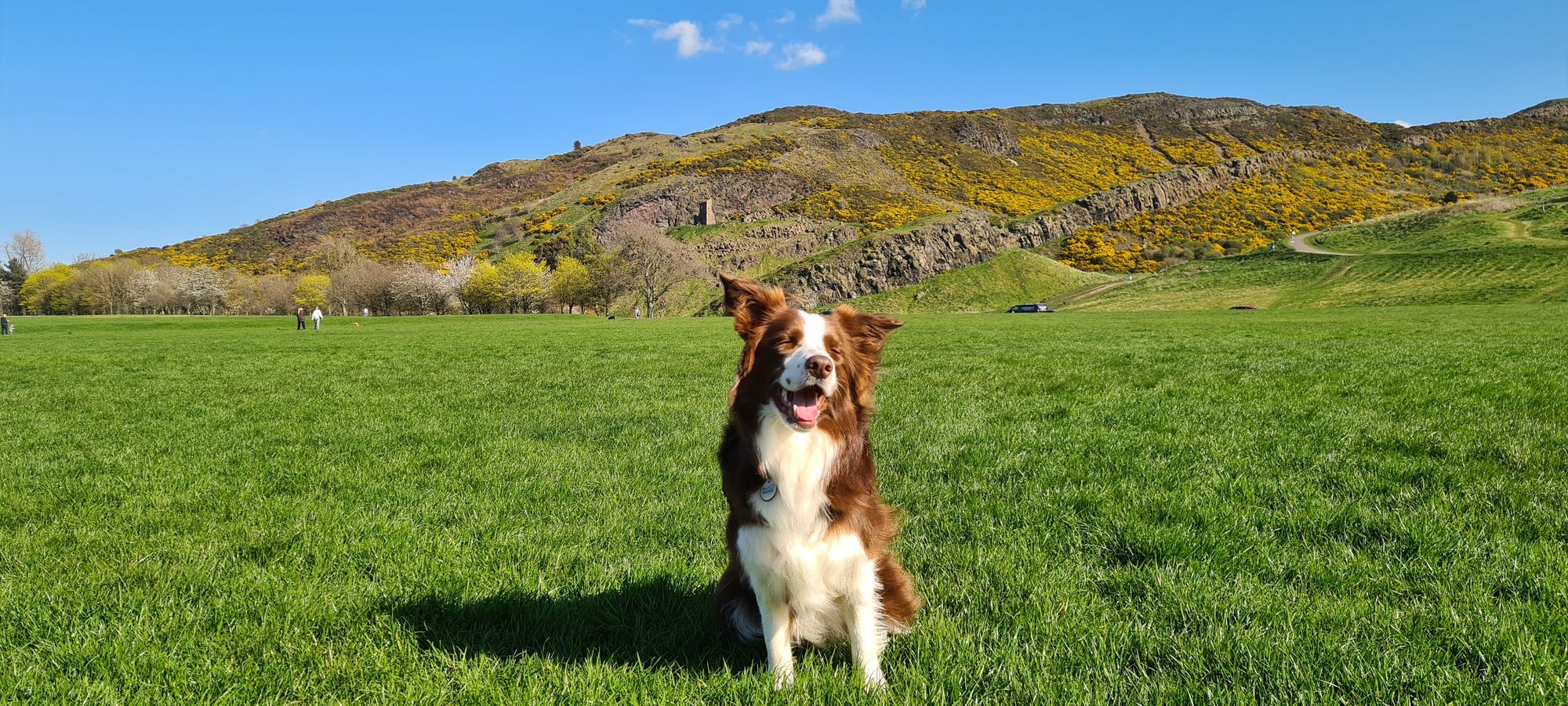 Last April we were thrilled to explore the beautiful city of Edinburgh and the breathtaking Scottish Highlands. It was our first long trip inside the UK since we moved to London, so we were very excited and want to share our trip with fellow dog owners who are planning a similar adventure.
Scotland is known for its stunning landscapes, rich history, and dog-friendly culture, making it the perfect destination for a vacation with your furry friend. In this post, we'll share our itinerary, including where to stay, eat, visit and play. So please sit back, relax, and dive into our unforgettable trip to Edinburgh and the Highlands!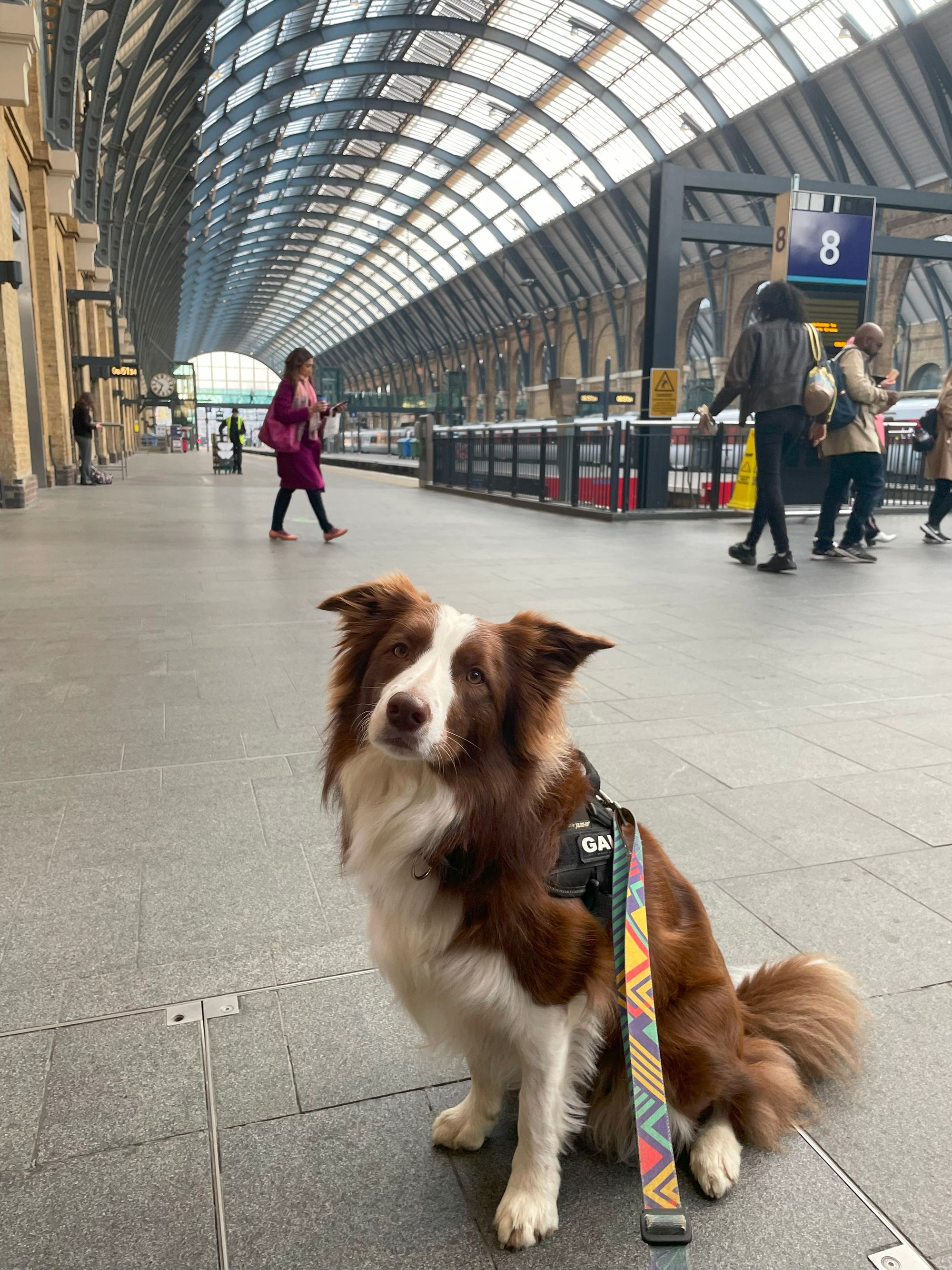 DAY 1 - LONDON | EDINBURGH
Morning
The train journey from London to Edinburgh takes around 4.5 hours, so it took up much of our morning. We started the day very early, as our train left King's Cross Station at 7 am, arriving at Edinburgh's Waverly Station at 11:20 am. All train routes inside the UK are pet-friendly and allow passengers to take up to two dogs without the need for prior authorization.
We then went straight to our pet-friendly Airbnb near Edinburgh Castle to check-in. The location of the Airbnb was perfect, at walking distance of most of Edinburgh's main attractions.  
Afternoon
We left the Airbnb and went to meet our friends who live in Edinburgh to make a dog protocol between Gaia and Bento, their German Spitz. They would be joining us on the trip to the Highlands, so we wanted to make sure that their first interaction would go smoothly. We chose to do the protocol in the green area of Mortonhall Crematorium, a location further away from the centre, quiet, and without too many people and dogs. We were starving by the time we finished, so stopped at Toby Carvery to have lunch. The weather was great, so we had our lunch outdoors, but they are pet-friendly and dogs are allowed indoors as well.
After that, we headed to the first tourist attraction of the day: Holyrood Park and Arthur's Seat (we did not climb Arthur's Seat this time because time was short, but we will definitely try it next time). The park has a great green area, where we sat on the grass and enjoyed the beautiful views while Gaia played loose for a while.
We then passed in front of Holyrood Palace and the Scottish Parliament Building (unfortunately these attractions are not pet-friendly, so we only stopped to take some photos) and continue walking towards Calton Hill, where we enjoyed great views of Edinburgh and explored some of the iconic Scottish monuments and buildings.
At the end of the afternoon, we walk back to the Airbnb, passing through Princes Street and the Scott Monument.
Evening
We were exhausted after a long day full of activities. Although we had made several stops during the day, Gaia was pretty tired, so we left her at the Airbnb and took the opportunity to visit Dine (a fancy restaurant that unfortunately doesn't accept pets).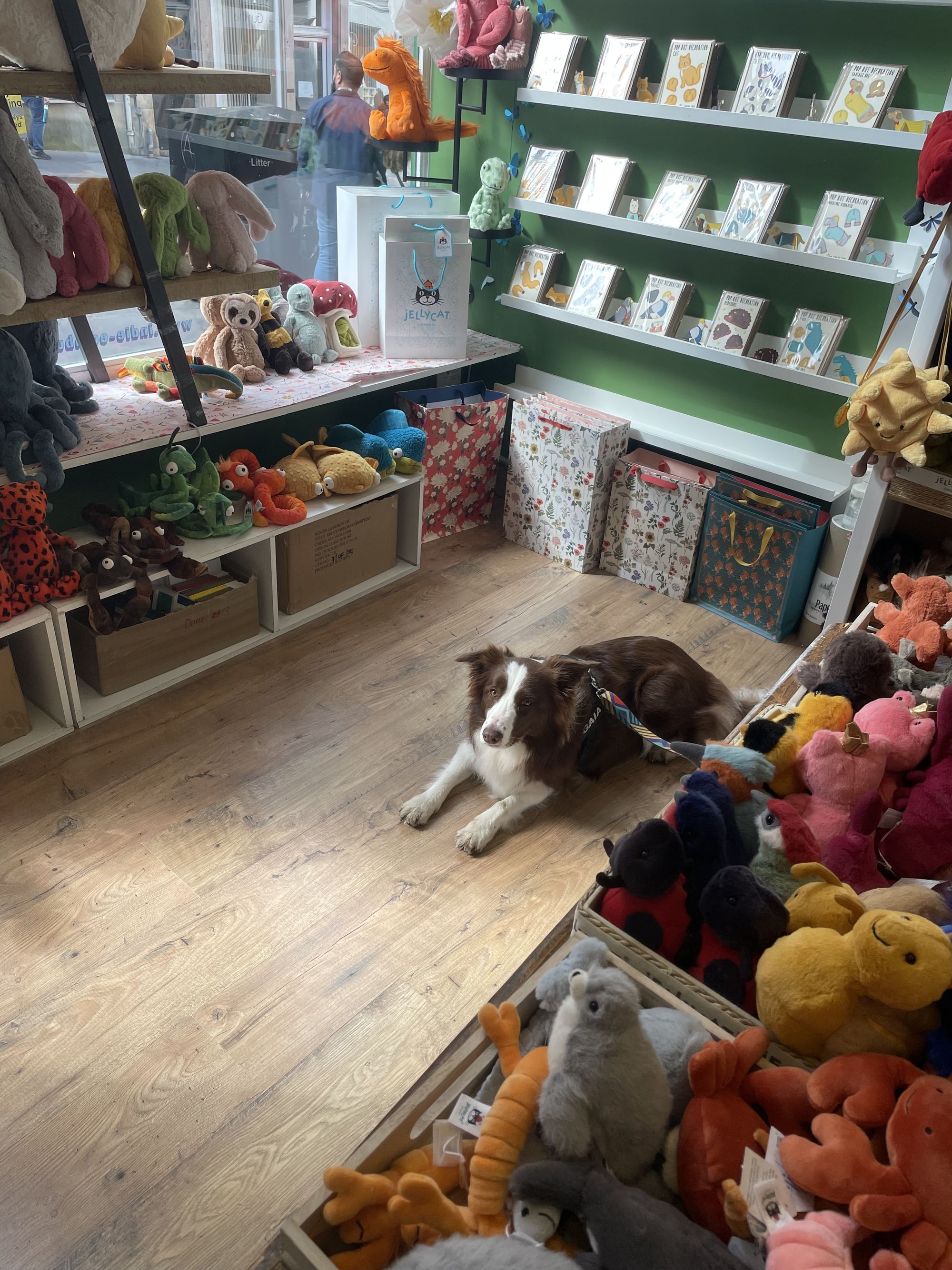 DAY 2 - EDINBURGH
Morning
We started the day by buying our breakfast at Preacher's, a small local patisserie on Lady Lawson Street (we highly recommend trying their scones) and we headed to Princes Street Gardens, a beautiful park where Gaia was able to play with her ball off-leash (the East Princes Street Gardens is more appropriate for that). Then, we visited the Johnnie Walker store on Princes Street - we asked and they let Gaia go inside the store with us.
After that, we walked towards Royal Mile through Cockburn St., where we found a very cute - and pet-friendly - gift shop called Eden. Gaia probably thought she was in paradise with all those toys and an attendant who pet her and gave her treats.
Next, we strolled the Royal Mile, passing by St Giles' Cathedral, Cadenhead's Whisky Shop (known as Scotland's oldest independent bottler of Whisky) and Bakehouse Close (a must-visit for all fans of Outlander).
Afternoon
Gaia went to spend the afternoon at our friend's house so we could do some attractions that are not pet-friendly. If we didn't have this option, we probably would have taken Gaia to the Airbnb to rest in the afternoon, since we had already walked a lot in the morning.
We had lunch at Makars Mash Bar (we asked and sadly they are not pet-friendly) and then headed to The Scotch Whisky Experience. It is a very interesting experience for everyone. Besides tasting 2 different whiskies, you get to learn about the process of making pure malt whisky, as well as the characteristics of whisky according to each region of Scotland. For those who really enjoy this type of drink, it is worth upgrading to The Gold Tour, so you can taste 4 more types of whiskies at the end.
Then it was time to enter the Edinburgh Castle. The castle itself is worth a visit for its beauty and history (reaching back into pre-history). Plus, you can enjoy wonderful views of Edinburgh, museums and restaurants within the castle grounds.
After that, we explored all the special places for all Harry Potter fans: Victoria Street, Greyfriars Kirkyard and The Elephant House (which sadly was closed that day).
Finally, we head back to the Airbnb, where Gaia was safely returned to us.
Evening
We had dinner with our friends at Cold Town House, a rooftop bar located on Grassmarket. They have three different areas: Brewhouse Bar (the only pet-friendly area), Roof Terrace and Pizza & Prosecco Floor. If the weather is good, we suggest you make a reservation in the Roof Terrace to see the sunset.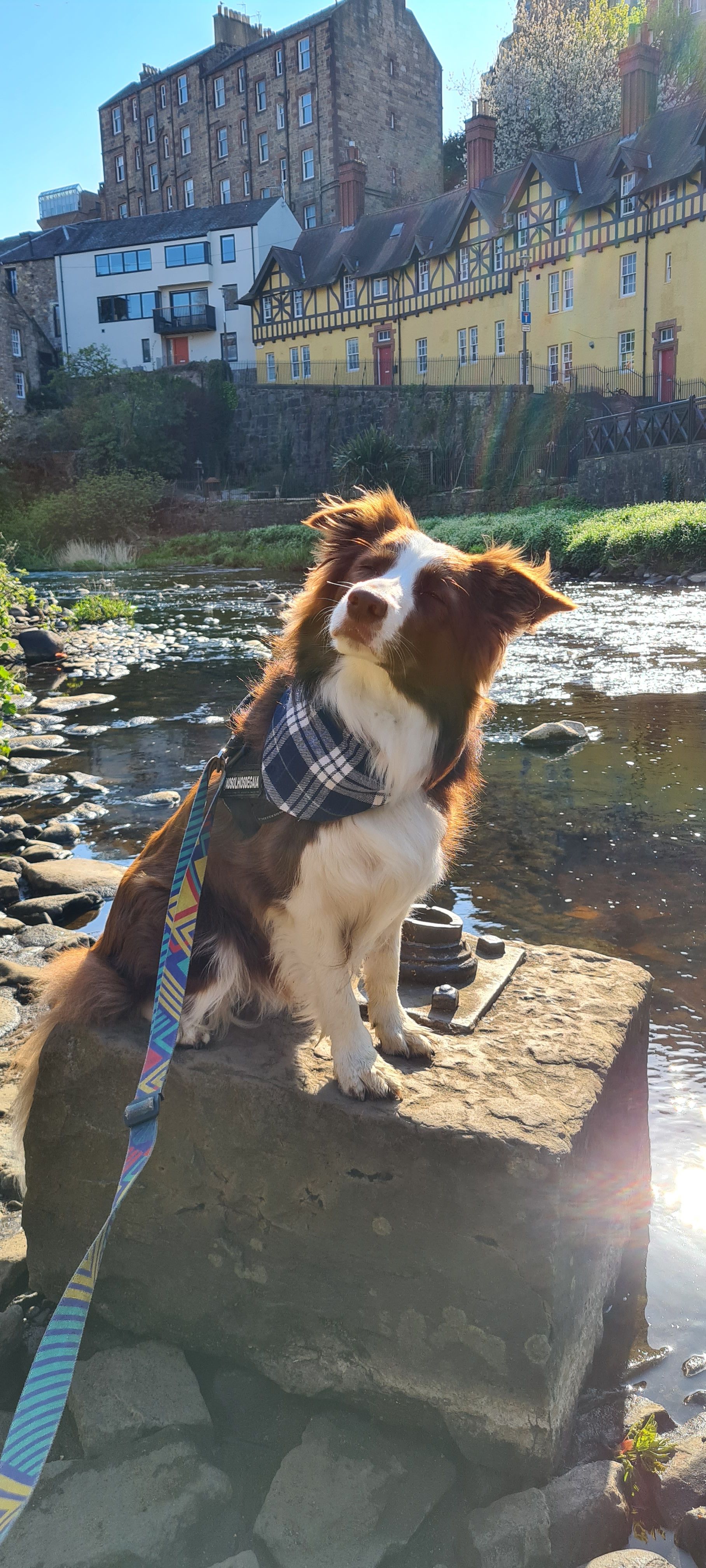 DAY 3 - EDINBURGH | HIGHLANDS
Morning
On our last morning in Edinburgh, we bought a quick breakfast at Starbucks and went straight to Dean Village, a picturesque village on the Water of River Leith with stone houses from the seventeenth century. We wish we had more time to enjoy the village (and Gaia really wished she could swim in the river), but we needed to continue our trip.
So we headed back to the Airbnb to check out and went to pick up our rental car (see our post about renting a car with a dog).  
Afternoon
After renting the car and picking up our friends and Bento, we started our road trip to the Highlands. It took us approximately 2 hours to reach Cairngorms National Park, our first destination. The park is huge (it is UK's largest National Park), with many different trails and places to visit, so we suggest researching in advance to know where to stop. We didn't want to go too far off our route, so we visited the southern part of the park, with a beautiful forest by the river.
Then, we continued our trip towards Culloden Moor on Inverness to visit the battlefield where the 1745 Jacobite Rising occurred. It looks us another 2 hours to get there. Dogs are not allowed inside the visitor centre, but they can walk throughout the battlefield and outdoor areas, where there are lots to see.
Then we headed to Milton, a village in Glenurquhart, on the northwest shore of Loch Ness, where our Airbnb was. We rented a lovely pet-friendly cottage, very cosy and with highland-themed decor. Our initial idea was to stay based in Inverness, but we found the location of this Airbnb perfect, as it is in the heart of the Highlands and makes it easy to travel to all its corners.
Evening
We checked in and enjoyed the rest of the evening relaxing in our cottage, as the next day's schedule was very busy.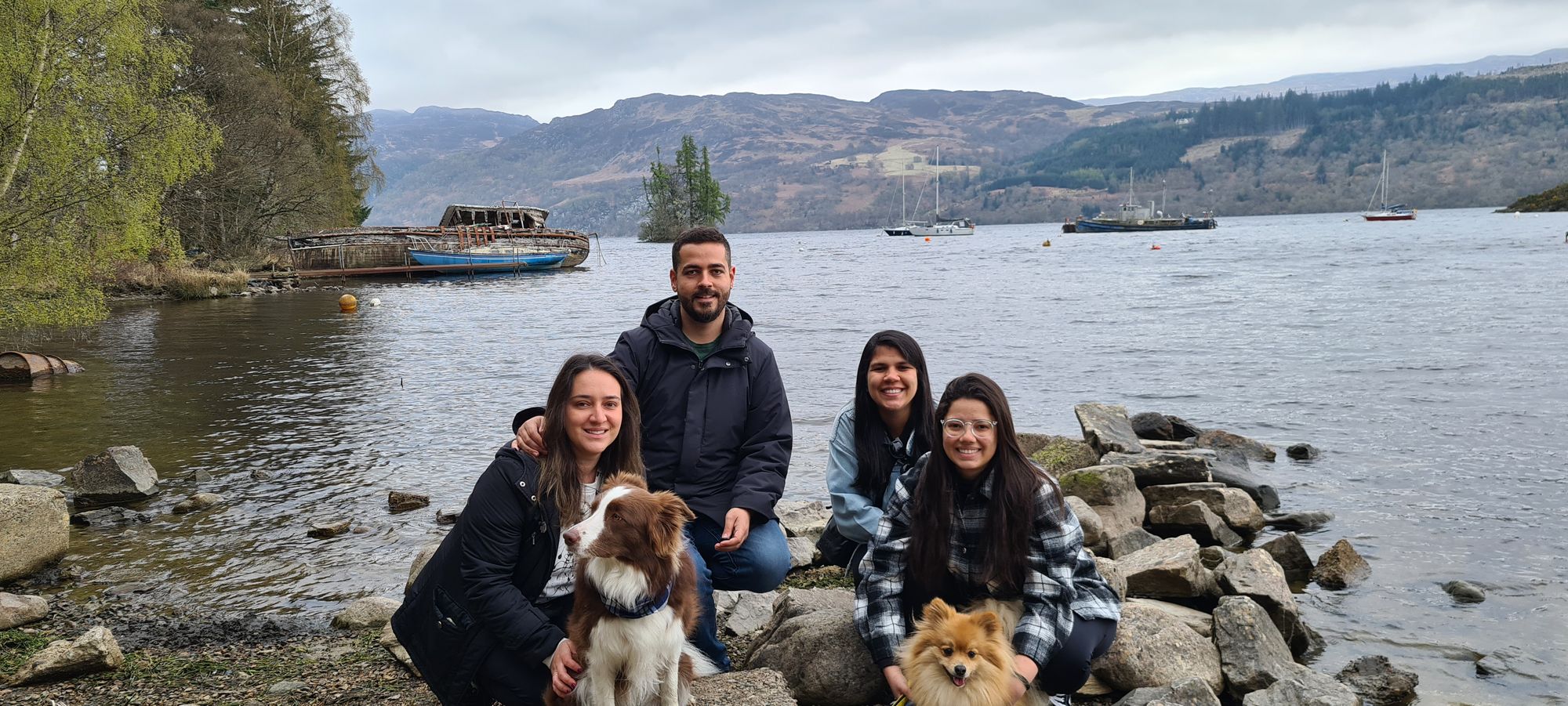 DAY 4 - HIGHLANDS
Morning
We woke up and soon went to see Loch Ness. Gaia tried to go into the water to look for Nessie, but it was cold and she couldn't be all wet for the rest of the day. Then it was time to start our car trip towards the Isle of Skye (the trip would take a little over two hours, but we made a few stops to know other places too). The route is wonderful, surrounded by mountains and lakes all along the way. First, we stopped at the road in the margins of Loch Loyne to take some pictures.
Just before arriving at Eilean Donan Castle, we stopped at Chocolates of Glenshiel to go to the toilet and we had a pleasant surprise. It is a cute shop with coffees, chocolates and the best pecan brownie we've ever had. And it is pet-friendly (in front of the shop there was a sign saying "Dogs with well-behaved owners are welcome").
The next stop was Eilean Donan Castle, one of the most visited attractions in the Scottish Highlands. Dogs are not permitted entry to the castle, but it is certainly worth the stop to take photos of the lake and the castle, enjoying the stunning views.
Afternoon
At lunchtime, we finally crossed the Skye Bridge and arrived at the Isle of Skye. The first stop was Portree, the main village on Skye, known for its colourful little houses and thriving cultural centre. We had lunch at Cafe Arriba, a dog-friendly cafe in the heart of Portree.
After lunch, we headed north to visit Lealt Falls, a beautiful waterfall on the River Lealt. At the same place, you will have spectacular views of the beach in the middle of the mountains. We tried to see Kilt Rock & Mealt Falls but sadly the viewpoint was closed for work.
Then, we started our journey back, stopping at Sligachan, a village with an old bridge and one of the most incredible views of the Black Cuillin. While at Skye, we also stopped on the road for Gaia to see a sheep up close and at the Scottish Cows Farm to see the Highland Cows (also known as Coos).
After a wonderful and busy day, it was time to go back to the Airbnb (which took around 2h by car).
Evening
The dogs and the humans were pretty tired, so one couple stayed with the dogs and the other went to the centre of Inverness (30min by car from the Airbnb) to buy some food and have a quick look around (it was already late, so most restaurants and attractions were closed). After dinner, we all had our well-deserved rest.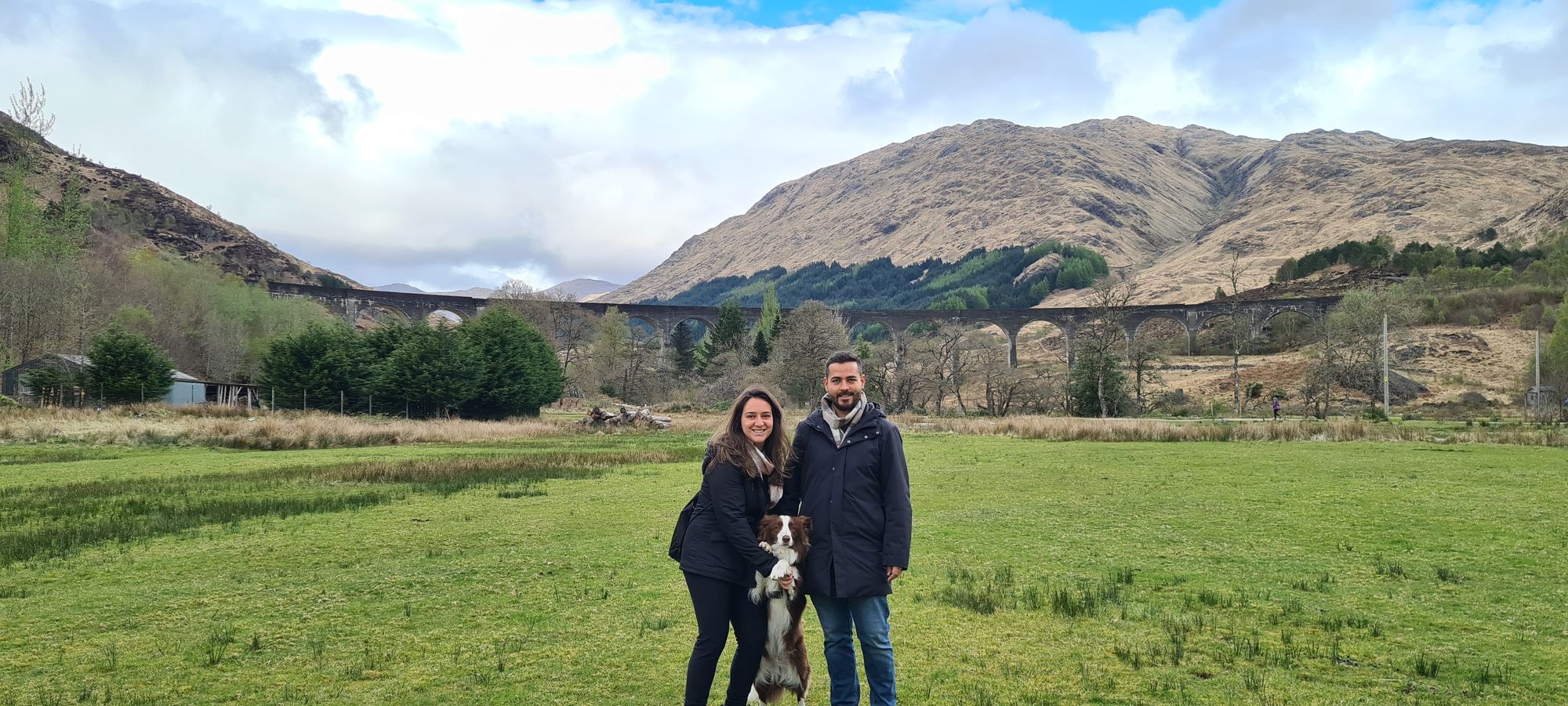 DAY 5 - HIGHLANDS | EDINBURGH | LONDON
Morning
We started the last day of our trip at Glenfinnan Viaduct, known by many as the Hogwarts Express viaduct. For those who wish to see the train passing by, the Jacobite passes over the Glenfinnan Viaduct at 10.45 am and 3.15 pm every day (but we recommend checking the schedule here before your visit just to be sure).
Afternoon
Our final stop in the Highlands was at Luss, a picturesque conservation village on the western shore of Loch Lomond (inside The Trossachs National Park). It was a chilly and windy day, but on warm days the lake shore and the pier get pretty busy.
We bought lunch in the village and took the road back to Edinburgh, where we said goodbye to our friends and vacuumed the car to remove all the pet hair before returning it to the rental company.
Evening
We left the car rental company and walked straight to the Edinburgh Waverly, where at 6 pm we caught the train back to London, arriving at 10:40 pm.
---
The trip exceeded our expectations. Scotland is beautiful, full of historical attractions, and exquisite nature, being a great destination for you and your dog. We certainly want to go back soon.
Here is a map with all the places we visited in Edinburgh.
And here is another map with the itinerary of our road trip around the Highlands.