Travelling by Plane with your Pet: AFTER the Trip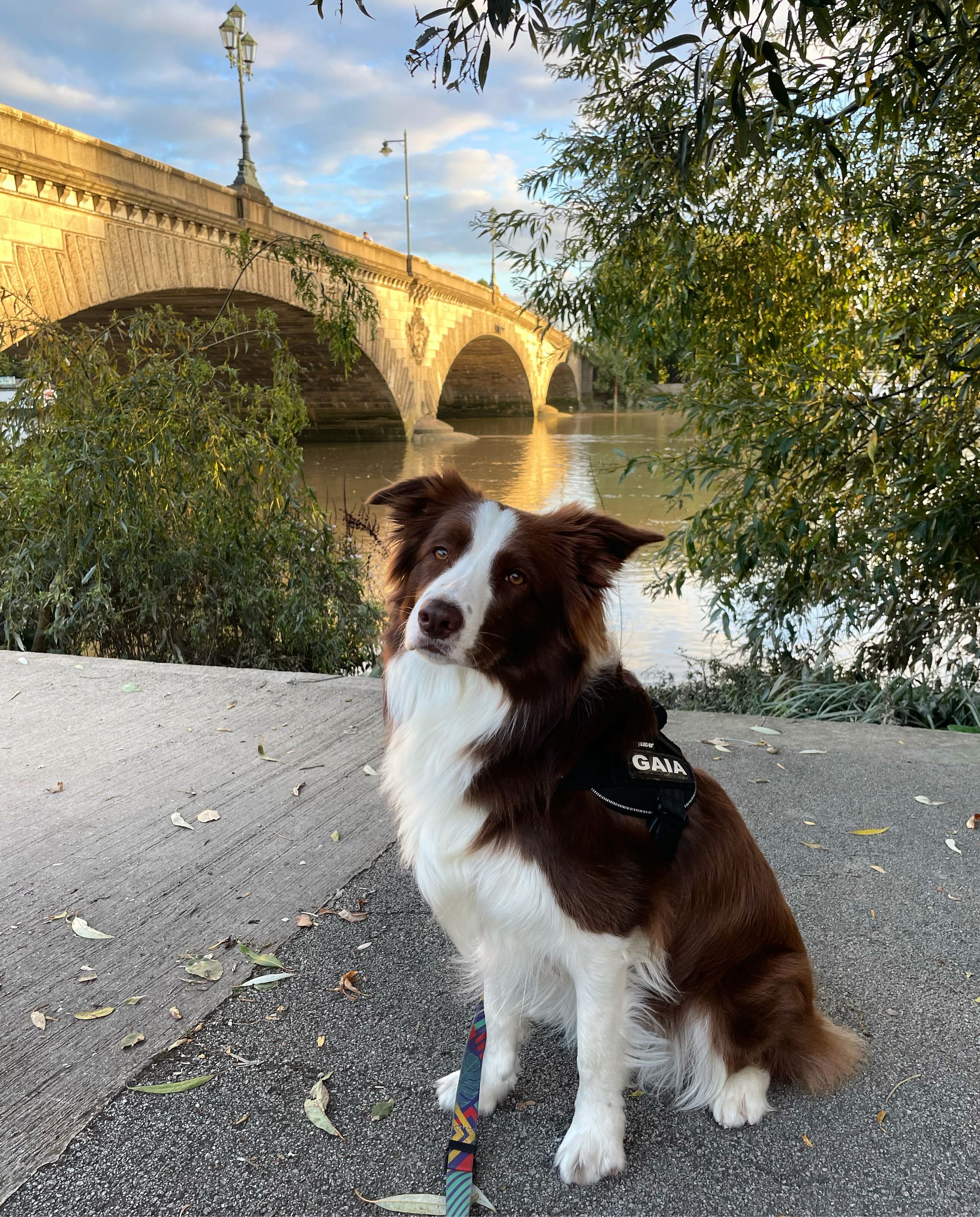 In the first two posts of our series on travelling by plane with your pet, we talked about the main questions that arise before the trip (click here) and gave some tips that can help you and your pet during the trip (click here).
In this third and last post of the series, me and Carolina Neves, a pet travel consultant and behaviourist of dogs and cats in Brazil*, address what you can do after the trip to make it easier for your pet to adapt to its new home.
---
Finally, it is time to focus on the adaptation of the pet to the new destination! Compared to the previous phases (preparation for the trip and the trip itself), the adaptation phase was the smoothest for us, because it doesn't depend so much on external factors (bureaucracy, airlines etc.). So I was sure that, Rapha and Gaia and I would overcome all the challenges together, with love and patience.
Nevertheless, the amount of information to think about at the same time is huge. If, like us, you are moving to another country or even another city, remember that the adaptation phase is also essential for humans. For a moment, you lose the reference of all the things you were used to: you don't recognise the brands of products in the market, you don't understand the menu in restaurants, you get lost on public transport... The same happens with pet-related issues. You have to research and decide everything all over again: food, vet, grooming products, route of walks etc.
Besides, your dog will probably need special attention in the beginning. Gaia, for example, who has always been used to long walks in different places in Brazil, showed signs of fear on her first walks in London. She was even scared by the sound of the leaves flying around and wanted to go home after a few minutes outside.
That's why we have gathered some tips to help you and your pet in this adaptation phase.
Laws and rules of the new destination
As we mentioned in the last post, it's important to study the destination's rules for pet owners. Here in the UK, for example, it is mandatory by law to microchip your pet and wear an identification tag when in public places, under penalty of a fine of up to £500.
In addition, to make an appointment at the vet here in England it is necessary to previously register the pet at a clinic, which will serve as your pet's reference vet and will have all of your pet's veterinary history - unlike in Brazil, where you just need to make an appointment at any clinic of your choice.
"After a well-deserved rest, it's time to review rules for pet owners in your new city", explains Carolina.
"First of all, keeping an Airtag on the pet's collar is a good option for identification in case of any emergency. It is also recommended to obtain a tag with your address and telephone number engraved and put it on the pet's collar as well. In some countries, it will be necessary to add a tag with the animal's registration number (mandatory whenever you are on the street).
Also, your pet probably already has a microchip and it is essential to always keep your information updated in its database (usually they store the owner's name, contact, and address, as well as general information about the pet).
In some countries, it is allowed for your pet to accompany you on public transport (bus, train and underground). Always confirm in advance if there are special rules to take your pet with you and if there are any restrictions on size, breed or times of the day.
Always consider how your dog feels in situations with strangers. Sometimes, your pet may not feel safe accompanying you in different places. If that is the case, it is important to prioritize your pet's well-being.
Waiting to explore parks and other public places at alternative times, when there are fewer people and animals, may be the best choice for more sensitive pets. For city walks, it's also nice to consider your best friend's preferences. After all, it's his ride!"
Here in the UK public transport is pet-friendly. But we waited weeks before Gaia was more confident to use public transport with her for the first time. And even today, we avoid riding at peak times or on very hot days for her safety and comfort.
Health and behavioural issues
Again, it is important to remember that everything is new for your pet: weather, smells, sounds, home, people, animals... and all of this can have consequences for your pet's health and behaviour.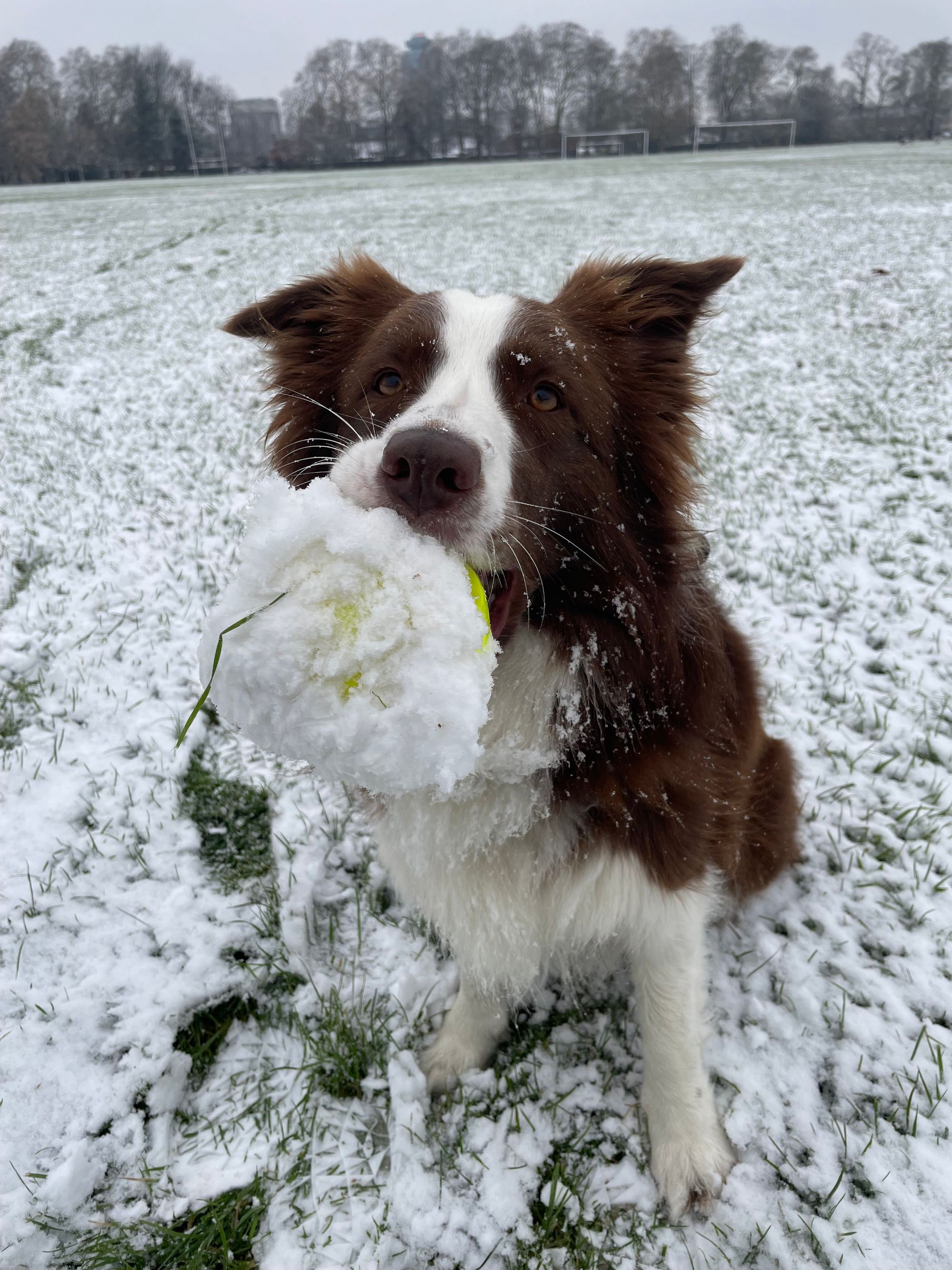 Gaia showed signs of fear and insecurity on walks during the first weeks (which she didn't show in Brazil), so we adapted our walking routine. Instead of having two long walks a day, we divided the outings into several short walks (just around the block) so she could adapt and gain confidence, increasing the time and distance in her own time - always using positive reinforcement on the way.
It is important to be patient with them during this adaptation phase and, if necessary, seek professional help from a vet and/or dog trainer.
"For hairier pets or pets that are more sensitive to cold, you need to plan ahead for extreme temperatures. For example, plan to keep the pet's coat longer and fuller in the winter (for dogs that are used to clipping their hair). If necessary, train your dog to use clothes. The gradual training for a pet that never had contact with a cloth can avoid great discomfort for them.
If the family's destination is a country that requires rabies serology, it is important to check the protocol for the vaccination booster (both against rabies and other diseases) and check the validity of the pet's document.
For countries in the European Union, for example, if you keep the vaccine updated, the serology will be valid for the animal's entire life, without the need to redo this exam. In the USA, serology is only required for dogs and is only valid for one year.
Finally, finding a veterinarian before an emergency situation occurs is fundamental. On the first visit to the vet, it is interesting to ask about the diseases that are common in the city/country. Sometimes, it will be necessary to include new vaccines to his usual protocol or to take other preventive measures".
New home
Usually, dog training professionals recommend gradually adapting a pet to a new home before a big move, promoting previous small visits to the new house for the pet to get used to it. However, when the move involves travel, this gradual adaptation is not possible. For example, when Gaia arrived, we were still in temporary accommodation, so she spent her first 15 days in England in two different houses.
But some tips can help your pet to adapt more quickly, even without knowing the new home in advance. Carolina explains that it is a good idea to take the pet's blankets, beds and toys to the new house without washing them first. This way, the animals will have access to familiar objects and scents that will bring them a sense of familiarity, safety and comfort.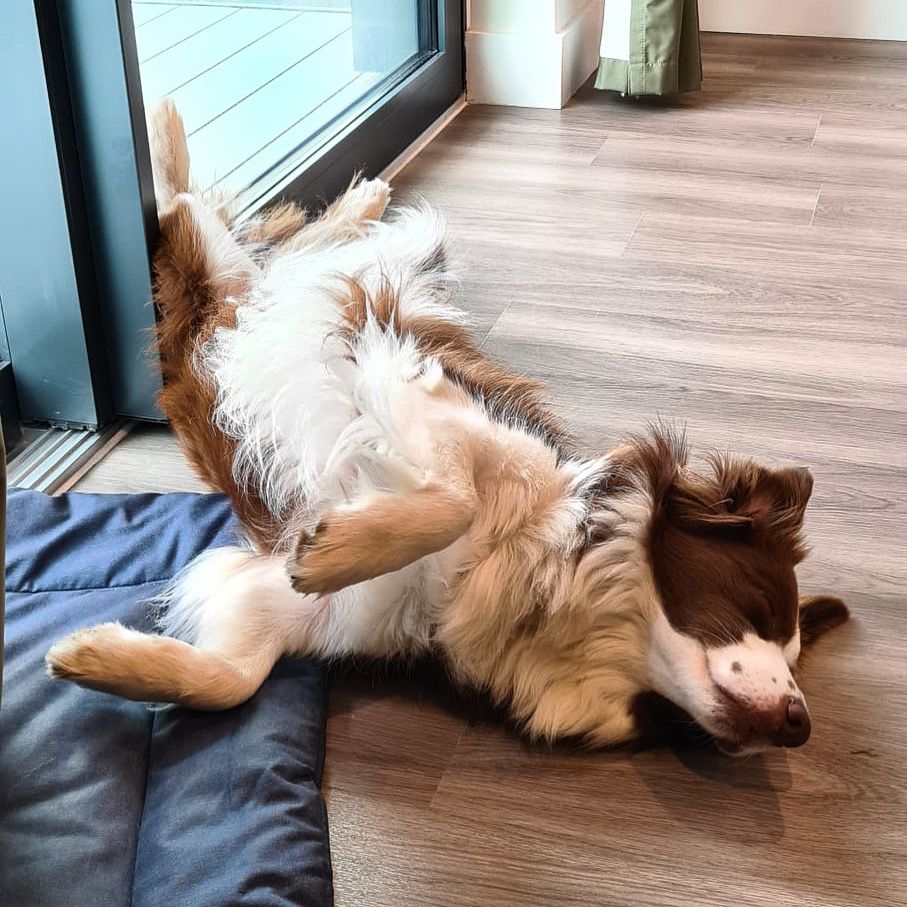 Another tip is to keep the crate/carrier available for your pet to use. After all, you've probably spent the last few months training your dog to associate that crate with a safe space, so why not use that to your advantage in the new house?
The use of pheromone diffusers or sprays (like Adaptil for dogs and Feliway for cats) can also be an excellent ally to keep your pet calmer and reduce stress levels during the adaptation.
Routine
Pets thrive with routines and habits. Try to resume your pet's normal routine as soon as possible (but respecting his own adaptation pace) - walks, feeding, watering and playtime will bring normality back into your pet's life after the trip.
Gaia took 2 to 3 weeks to return to her normal behaviour (confident and adventurous) but it is important to remember that each case is unique. Some pets may adapt more easily and others may take a little longer. Also, external factors (such as extreme climates and major differences between the place of departure and destination) can play a major role in the adaptation process.
With patience and respect, everyone will soon be adapted to their new destination and routine.
---
*Carolina Neves is a dog and cat behaviourist in Brazil, founder of Consultoria Pet and has been working for 18 years directly helping families to understand and communicate better with their pets.